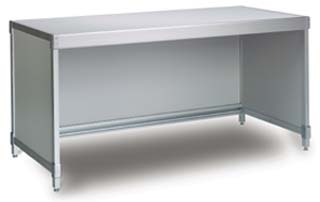 Aluminum framed consoles are designed to support sort modules, platforms and mailing machines. Framed in contoured anodized aluminum with high pressure laminate tops and available in widths of 24″ – 84″, heights of 30″, 36″, 42″ and clearances of 3″ or 9″. Variations include open frame, half shelf, full shelf and cabinet consoles. Shown here in open frame configuration with 3″ clearance.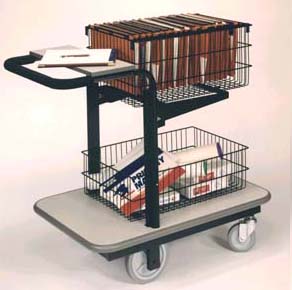 Mail cartsare designed to facilitate the collection and distribution of mail and packages throughout a corporate facility. Hamilton Sorter's mail carts feature ergonomic foam grips on height adjustable handles. Oversize rear wheels provide effortless navigation around obstacles or over barriers such as elevator floor rails. Standard bumper molding protects from dings and dents and mail baskets support flats, packages and penda-flex file folders. Shown here in delivery cart configuration with optional writing surface.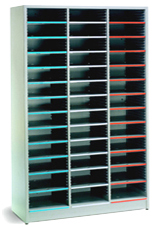 Freestanding sort modules are designed to provide for maximum sorting capability in a minimal footprint. Available in 3 or 4 column configurations, widths between 36″ – 56″ and heights from 48″ – 76″. Supports standard, legal and oversize shelves. Shown here in 3 column, full height configuration.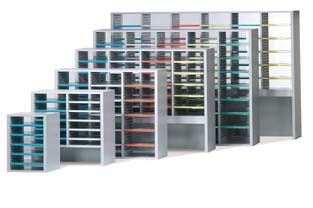 Sort modules are designed to sit atop aluminum framed and all-laminate consoles. Available in widths from 13″- 84″ and heights from 18″- 48″. Variations include closed, open and plexiglass back. Supports standard, legal and oversize shelves.