Addressing & Tabbing Systems

Neopost's full line of office-based desktop address printers put a professional finishing touch on your business mailings. The ability to print message line in color can eliminate the need for preprinted envelopes; and printing delivery point bar codes can substantially reduce your postage costs. Save time and money with high print speeds, trouble-free operation and reliable HP inkjet technology.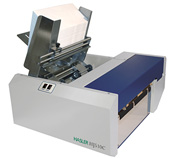 AS-510C Address Printer
The AS-510C is a user-friendly, entry level system that prints full process photo quality colour, making it perfect for high impact, low volume mailings. With the AS-510C you can produce professional envelopes at a price you can afford. Utilizing exclusive HP Photosmart® software and print technology to produce accurate colours, the AS-510C has photo realistic print quality that is unmatched. Its shuttle head design provides for a generous print area of 8.5″ wide by 14″ high where you can use a full array of colours and TrueType fonts to add attention generating photos, graphics and logos. The AS-510C can print postcards, envelopes, flats and documents all in a single pass.
AS-510C Brochure Request a Quote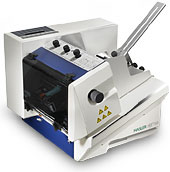 AS-710 Address Printer
Make a huge impact with your mail and increase your response rate with the Neopost AS-710 addressing system. The AS-710 will make your mailings look more professional by giving you the ability to print addresses, logos, barcodes, and graphics almost anywhere on the mailpiece. High speeds and capacity allow you to finish your mail processing operation faster, thereby decreasing your turnaround time.
AS-710 Brochure Request a Quote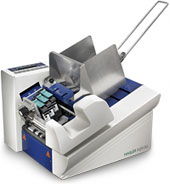 AS-930 Address Printer
Neopost's AS-930 Addressing System ensures maximum speed, accuracy and flexibility for almost all address-printing needs. The system features fixed-head technology capable of printing at nearly constant speed regardless of content. Print on a wide variety of documents: envelopes to magazines to newsletters. Secured paper paths and low jam-rates provide greater output which shortens processing time. Take advantage of USPS® postal automation discounts and decrease duplicate mailings by combining the AS-930 with postal discounting software. Saves both time and money.
AS-930 Brochure Request a Quote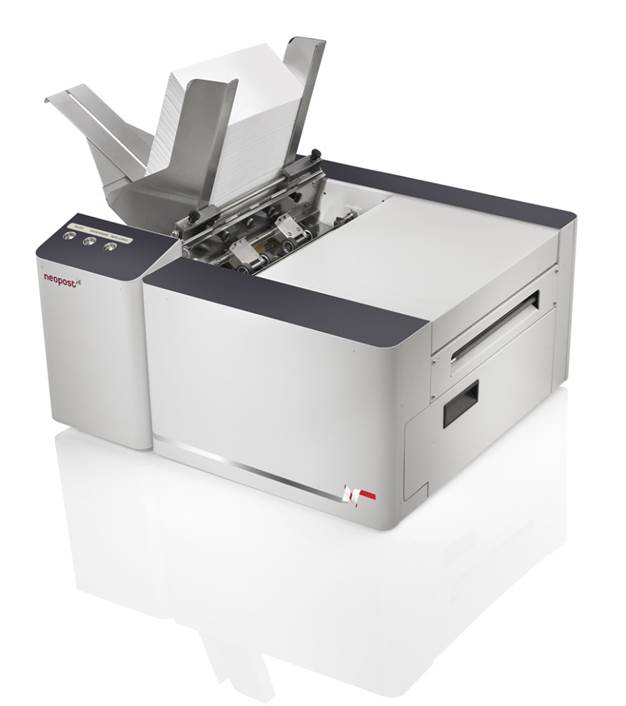 MACH 5 Digital Color Printer
The MACH 5 printer from Neopost is the world's first printer to leverage patented Memjet® technology to dramatically improve direct mail and transpromotional marketing – at an extremely low total cost of ownership. It allows mail centers, print shops and marketers of all sizes to take advantage of exceptional color printing fidelity and printing speed across a wider variety of paper and label stocks than ever before. The MACH 5 is ideally suited for applications such as envelopes and stationery, wedding, birthday, holiday cards and special event invitations printing, mail addressing and barcoding, postage printing, and more. Exceptional print quality plus speed translates into your lowest cost per piece and fastest ROI for direct mail and transpromotional marketing printing.
MACH 5 Brochure Request a Quote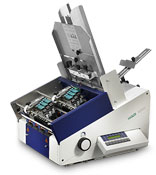 AS-960 Address Printer
The AS-960 Addressing System uses patented HP printing technology, prints 600 x 600 dots per inch and delivers sharp, crisp, easily readable addresses.The AS-960 also prints machine-readable barcodes, like the Intelligent Mail® barcode, that are fully compatible with the Postal Service's reading systems. The AS-960 integrates with address quality management software such as Neopost's Business Mailer or similar third-party software solution. That means custom-designed address layouts as well as address cleansing, address optimization and other money-saving features.
AS-960 Brochure Request a Quote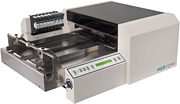 AS-980 Address Printer
The AS-980 is a full-featured, high volume, large capacity addressing solution that has the ability to take on any challenge with reliable and outstanding results. The AS-980 features a large 3″ print area and three independent print modules which give you the option to print addresses, attention lines, postal barcodes, return addresses and indicia on a mailpiece at the same time. The multi-channel vacuum transport has repositionable outer transport belts and material guides that can be customized to keep pieces in place and ensure perfect registration every time. And, with the inkjet cartridge storage compartment you are able to extend the life of your cartridges and increase their yield, which saves you money.
AS-980 Brochure Request a Quote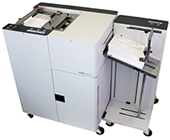 MACH 8 Digital Color Printer
The MACH 8 Digital Color Printer features a high-capacity paper feeder and automatic output stacker that have the ability to hold as many as 5,000 sheets. The MACH 8 is a great solution for high-volume document printing at financial institutions, universities, law offices and government agencies. Businesses can enjoy the benefits of wide-format color with enhanced cost controls and document security.